Example: Bakery Recipe Cost Calculation
For our example, we want to make a simple recipe for Ciabatta Bread Rolls. Our recipe creates 4 rolls and only contains 5 ingredients. (To recreate these instructions you will have to be logged into your account on COOKKEEPBOOK.)
1. Create the Ingredients:
Before we can create a recipe, we need to create ingredients. We know we will have these ingredients on our example recipe:
Water
Bread Flour
Olive Oil
Salt
Yeast
To create ingredients, click on INGREDIENTS in the navigation bar. Once the INGREDIENTS page opens, open the "New Ingredient" section. Type in the name (and optionally specify the category of ingredient) and press the create button. This will create the ingredient and show it in the list below. Repeat this last step for all 5 ingredients.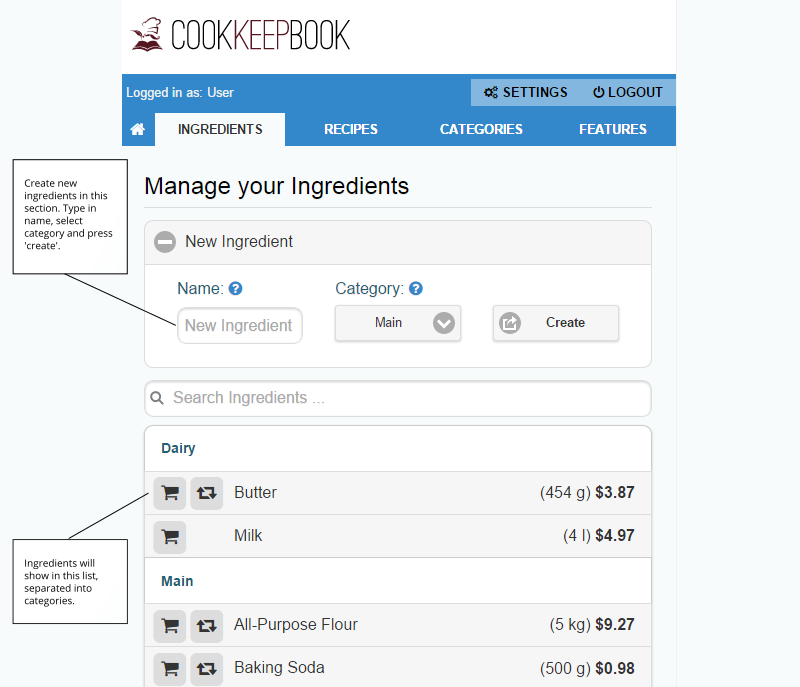 2. Create the Recipe:
Once we created all the ingredients, go to RECIPES and create a new recipe called "Ciabatta Bread Rolls", similar to how we created ingredients. Once created, click on the recipe in the list to edit it.
In the recipe, click the "Add Ingredient" button and add them all to the recipe. On the recipe set the quantity used of each ingredient.
Water - 0.7 liters
Bread Flour - 815 grams
Olive Oil - 33 milliliter
Salt - 20 grams
Yeast - 7 grams
This is how it will look once all ingredients have been added to the recipe. Note that the cost for each ingredient currently shows 'N/A'. This is because there are no purchases recorded for the ingredients.
3. Adding Purchases:
Go to the ingredients (either by clicking the links provided on the recipe or by going to the INGREDIENTS list). Once in the ingredient, open the 'Add Purchase' section and enter the purchase quantity and cost.
Water - $0.00 / 1 Liter (we don't pay for tap water per liter but you may want to include a small cost for water)
Bread Flour - $41.99 / 50 pounds
Olive Oil - $16.99 / 2 liters
Salt - $5.75 / 2 pounds
Yeast - $5.13 / 113 grams
Our recipe/food cost calculator will now be able to calculate each ingredients cost on the recipe. When the resulting amount of the recipe (4 servings) is specified, the calculator automatically divides the cost to each roll.
Other examples of how to cost a recipe:
Close