with measurement converter
with yield percentage
unlimited free account
Calculate the cost of your recipes - free of charge - unlimited ingredients and recipes.
For cooks at home or entrepreneurs starting out in the food industry. Knowing what a recipe costs will help you budget your food expenses and help you make good decisions.
Our Recipe Cost Calculator's Features:
Yield Percentage
Our calculator includes ingredients having adjustable yield percentage (or waste percentage), which will increase the accuracy of the cost/price calculation.
Recipe as Ingredient
Use a recipe as an ingredient on another recipe to simplify your work flow and keep things accurate without duplicating your efforts.
Ingredient Cost History
Keep track of the change of ingredients cost. The calculator will always use the latest entry, but you can see the change of ingredient cost with time.
Vendor Tracking
Track the vendor (store) of each purchase. Compare history of ingredient prices across various vendors.
Automatic Update
Any change on ingredients or recipes used as ingredients will instantly be shown on recipes that use these. Cost of these will be updated and shown in the list view.
Split into Servings
Split the cost of the recipe into servings automatically.
Measurement Converter
Use the measurement converter to switch between weight/volume in your purchases and your recipes.
Local Currency
Use different currency symbols to reflect your local business needs. You can change these in your settings. If we are missing any, let us know and we will add it to our list.
Print Recipes
Print your recipes, including the cost, ingredients, measurements and instructions for offline usage.
Notes/Description
Complete your recipe record with notes, descriptions or instructions. These will be included on your print outs of the recipes.
Easy to Use Design
Even if you don't have certain information, never feel stuck. We designed this tool to have a work flow that can continue around missing information. Once you have the information, you can fill in the blanks.
Mobile Ready
Use any browser enabled mobile device to access your information and work with it. COOKKEEPBOOK has been designed to work on desktops, laptops and tablets. Even smartphones can be used.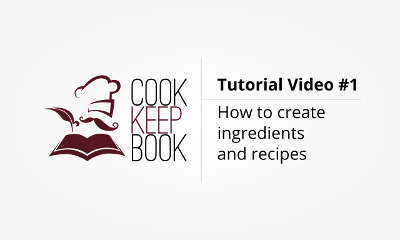 Do more with your recipes ... introducing our Meal Planner:
Once you have some recipes in COOKKEEPBOOK, use them to do even more: Place the recipes on the Meal Planner calendar, plan ahead (ie. for catering orders) and know the exact amount of each ingredient you will need.
Here some of the features of our Meal Planner:
Calendar View
Plan your meals on a calendar with a whole months view. Multiple recipes can be added to each day. You can also print a monthly calendar view.
Scale your Recipes
Scale your recipes on your calendar by up to 10x the original recipe size. If you specified the servings in the original recipe, see the servings count change as well.
Create Shopping List
Switch the calendar to the shopping mode, and you can select a day or select a date range to create a shopping list.
Smart Shopping
The shopping list will add all ingredients together and sort them by category. It will show the required amount in the last purchase's measurement unit. It will even factor in Waste (Yield) Percentage, and add the amount needed to get the required quantity for the recipe.
Print Shopping List
Some ingredients won't need to be purchased. To skip printing them simply clicking the small printer icon in front of the ingredient listing.
Part of Standard Account
The Meal Planner is part of our free, standard COOKKEEPBOOK account.
Examples of how to cost a recipe:
The procedure of how to calculate the cost of a recipe is quite simple, yet it can vary in the approach.
Check out some of our examples to understand what needs to be done to calculate a recipe's cost: